Tradeshow
BPI US West 2023
febrero 27 - marzo 2, 2023
San Diego, California
United States
Description
We're looking forward to seeing you at BPI US West 2023 and learning more about the latest innovations in biopharmaceutical development and manufacturing. This year's event features six conference tracks:
Cell Line Development
Cell Culture
Recovery & Purification
Next Generation CAR & T-CELL Therapy
Cell & Gene Therapy
Manufacturing Strategy
It'll also be a hybrid event, so even if you won't be able to join us in person, you can still get insights from some of today's bioprocessing leaders as well as access to great networking opportunities.
We're Part of the Speaker Lineup
On Wednesday, March 1 at 11:30 a.m., Dr. Akash Bhattacharya—a senior application engineer here at Beckman Coulter Life Sciences—will take the stage to discuss a recent comparative study where we examined two prominent techniques for adenoviral vector (AdV) purification: density gradient ultracentrifugation (DGUC) and ion-exchange chromatography (IEC).
Join Dr. Bhattacharya to learn more about:
How DGUC and IEC perform with respect to various AdV critical quality attributes
Key considerations for choosing DGUC or IEC for AdV purification
Solutions for rapid implementation, optimization, and scaling of DGUC for purification
About Dr. Akash Bhattacharya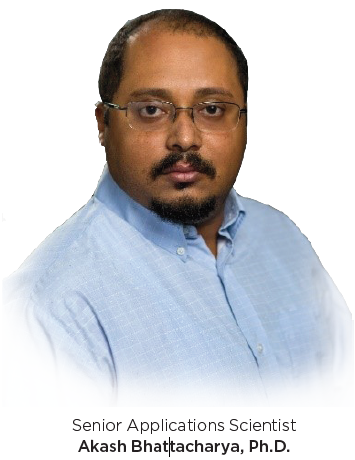 Dr. Akash Bhattacharya graduated from Presidency College, India with a major in physics and went on to earn a master's degree in physics at the Indian Institute of Science where he also worked on quantum computing.
He then moved on to doctoral studies in biophysics at the University of Michigan, Ann Arbor where he joined the lab of Prof. Erik Zuiderweg and worked on NMR spectroscopy methods development in the context of the structural biology of chaperone proteins.
After Michigan, Dr. Bhattacharya worked at Rutgers and then eventually moved to the Dept. of Biochemistry and Structural Biology at the University of Texas Health at San Antonio. There, he worked with Prof. Dmitri Ivanov and Prof. Borries Demeler on the enzymology of HIV infection and restriction by mammalian proteins. He also worked on projects related to oncology (DNA damage repair) and neuroscience (voltage gated ion channels), using a wide variety of techniques ranging from X-ray crystallography, NMR spectroscopy, fluorescence spectroscopy, molecular dynamics and analytical ultracentrifugation (AUC).
Akash joined Beckman Coulter Life Sciences in October 2018. He is based in the Colorado R&D center and works on developing new AUC applications. His research interests include extending AUC methodology to new therapeutic areas such as AAV capsids (gene therapy), liposomal drug carriers and others.
Products identified are not for use in diagnostic procedures.