Evaluación de AMPure XP
Purificación y limpieza con AMPure XP. Este es el estándar de referencia.
La purificación y limpieza de los ácidos nucleicos es obligatoria para las aplicaciones genómicas, incluyendo la secuenciación, qPCR/ddPCR/PCR, micromatrices y otras reacciones enzimáticas. A fin de maximizar la recuperación, la consistencia y la velocidad para facilitar todo el flujo de trabajo de NGS, Agencourt AMPure XP está optimizado para satisfacer las rigurosas necesidades de las aplicaciones genómicas actuales y minimizar el riesgo de perder información genética importante.
Alta recuperación de amplicones, mayor que 100 bp
Eliminación eficiente de dNTP, cebadores, dímeros de cebado, sales y otros contaminantes no incorporados
Selección de tamaño predecible y consistente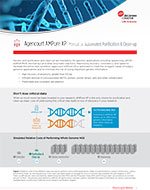 Descargue el folleto para obtener más información sobre el reactivo de purificación y limpieza AMPure XP.
Data Sheet: AMPure XP Reagent Kits
Download the brochure to learn more about the AMPure XP purification and cleanup reagent.