AMPure XP para la purificación de la PCR
Limpieza y selección de tamaño
Puede utilizar nuestra química patentada basada en esferas paramagnéticas de SPRI para eliminar contaminantes (dNTP, sales, cebadores, dímeros de cebado) durante sus flujos de trabajo de NGS.
Se utiliza en una variedad de productos químicos de preparación de bibliotecas de NGS
Compatible con el procesamiento manual y automatizado
Alta recuperación de amplicones >100 bp
Selección de tamaño predecible y consistente
¿Necesita un certificado de análisis (COA)? Utilice la barra de búsqueda en la parte superior de la página para buscar su número de lote.
Explore AMPure XP Reagents
Flujo de trabajo de AMPure XP

Características del producto
Descripción general
AMPure XP elimina los contaminantes no deseados del ADN en una variedad de aplicaciones, incluyendo PCR, NGS, clonación y micromatrices.
Alta recuperación
La recuperación eficiente de su muestra garantiza que los datos críticos no se pierdan dentro del flujo de trabajo.
Estándar de referencia para los flujos de trabajo de NGS
Reactivo de confianza y recomendado para la selección de tamaño y los pasos de limpieza dentro de una variedad de flujos de trabajo de NGS.
Flexible y escalable
Las limpiezas manuales con AMPure XP requieren menos de 30 minutos. Para las necesidades de mayor rendimiento, AMPure XP se puede automatizar en todas las plataformas Biomek, permitiendo cientos de muestras al día.
Citas
Peffers, M. J., Liu, X., & Clegg, P. D. (2014, March 8). Transcriptomic profiling of cartilage ageing. Genomics Data, 2, 27-28. doi:10.1016/j.gdata.2014.03.001
Se utiliza para limpiar el ADNc
Greenwald, W. W., Li, H., Benaglio, P., Jakubosky, D., Matsui, H., Schmitt, A., . . . Frazer, K. A. (2019, March 5). Subtle changes in chromatin loop contact propensity are associated with differential gene regulation and expression. Nature Communications, 10(1054), 1-17. doi:https://doi.org/10.1038/s41467-019-08940-5
Se utiliza para limpiar las reacciones PCR con código de barras durante la preparación de la biblioteca
Disclaimer (Aviso de exención de responsabilidad): Beckman Coulter no ofrece garantías de ningún tipo, expresas o implícitas, con respecto a este protocolo, incluyendo, entre otras, las garantías de idoneidad para un propósito particular o de comerciabilidad o de que el protocolo no sea infringente. Todas las garantías están expresamente rechazadas. Su uso del método es exclusivamente bajo su propio riesgo, sin recurrir a Beckman Coulter. No está destinado ni se ha validado para su uso en el diagnóstico de enfermedades u otras afecciones. Este protocolo es para demostración solamente y no está validado por Beckman Coulter.
No pierda los datos críticos
Cuando se ha invertido demasiado en la investigación, AMPure XP es su única opción para los pasos de purificación y limpieza. La pérdida de rendimiento durante este paso crítico conduce a la pérdida de descubrimientos en su investigación.

Costes relativos de los diferentes pasos requeridos para ejecutar las diversas aplicaciones de NGS. Los pasos incluyen extracción, construcción de la biblioteca, enriquecimiento de la biblioteca, limpieza y secuenciación. Los costes se calcularon en función del precio de lista medio de los kits y reactivos disponibles comercialmente en 2017. Las eficiencias de limpieza se calcularon determinando el rendimiento total del ADN mediante el ensayo Picogreen después de realizarse un procedimiento de limpieza en una cantidad de ADN conocida. El porcentaje de producción relativo al rendimiento de AMPure XP se utilizó luego para calcular el impacto de la eficiencia en varios métodos de construcción de bibliotecas comercialmente disponibles y un cambio en el reactivo de purificación.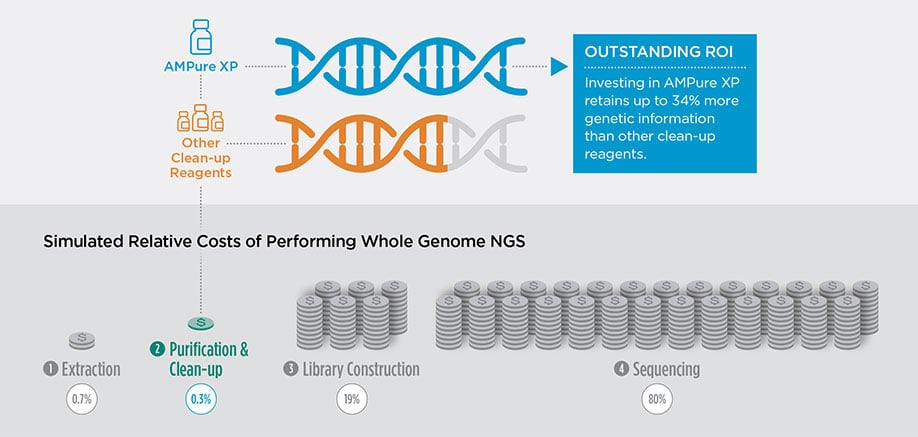 AMPure XP is the Gold Standard for Bead Based, Next-Generation Sequencing (or NGS) Cleanup
Over 200 library prep kits suggest using AMPure XP, including kits from trusted sequencing companies:
Illumina®
Nanopore
PacBio
Thermo Scientific
Over 15,000 publications used AMPure XP, referenced in articles in Science, Nature, and PNAS.
Nucleic acid purification and cleanup are mandatory for genomic applications, such as sequencing, qPCR/ddPCR/PCR, and microarrays. Maximizing recovery, consistency, and speed, AMPure XP meets the stringent needs of today's genomic applications and minimizes the risk of losing important genetic information.
High recovery of amplicons greater than 100bp
Efficient removal of unincorporated dNTPs, primers, primer dimers, salts and other contaminants
Predictable and consistent size selection
"Our findings suggest AMPure XP would be the best choice for analyses requiring very high analytical stringency." Mikheikin, A., Olsen, A., Picco, L. et al. High-speed atomic force microscopy revealing contamination in DNA purification systems. Anal. Chem. 88:5, 2527-2523 (2016) doi: 10.1021/acs.analchem.5b04023.1
1Disclaimer: Beckman Coulter makes no warranties of any kind whatsoever express or implied, with respect to this protocol, including but not limited to warranties of fitness for a particular purpose or merchantability or that the protocol is non-infringing. All warranties are expressly disclaimed. Your use of the method is solely at your own risk, without recourse to Beckman Coulter. Not intended or validated for use in the diagnosis of disease or other conditions. This protocol is for demonstration only, and is not validated by Beckman Coulter.