Servicios de fabricación por contrato

Usted lo diseña. Fabricamos muchos del mismo. Para que esté allí cuando lo necesite.
Las opciones son las siguientes:
Anticuerpos de cualquier fuente (nuestra, suya o de nuestros competidores)
Formatos seco o líquido
Exclusivo de DURA Innovations
Condiciones de entrega flexibles
Pruebas de control de calidad (QC) a pedido (según su método de validación y criterios de aceptación especificados)
| | |
| --- | --- |
| | Su recurso singular para pedidos a granel de cócteles de anticuerpos hechos a medida* por expertos en citometría de flujo. |
¿Por qué elegir a Beckman Coulter Life Sciences como recurso de confianza para cócteles de anticuerpos a granel?
Puede ahorrar tiempo simplificando la gestión de inventario y agilizando sus flujos de trabajo.
Utilice esta calculadora para estimar rápidamente cuánto podría ahorrar.
Puede optimizar el control de calidad minimizando el potencial de errores/variabilidad.
Su pedido incluirá un lote de evaluación gratuito para que usted lo valide y apruebe.
Sus cócteles se fabricarán siguiendo las BPF** en instalaciones con certificación ISO 9001.
Compare RESOURCE con otros Servicios de reactivos personalizados.
¿Por qué desperdiciar preciosos recursos internos cuando tiene un socio fiable para la producción a gran escala de los cócteles de anticuerpos que necesita?
Descubra cómo los servicios de fabricación por contrato CMS** pueden ayudarle a optimizar la productividad de su laboratorio.

Acerca del proceso de pedido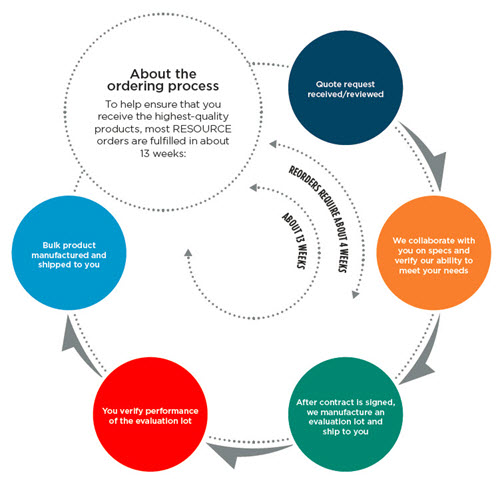 Contract Manufacturing Services Ordering Process
Los pedidos repetidos de los mismos productos se entregan en la fecha solicitada si se menciona una indicación previa de la entrega en el momento de la firma del contrato o se proporciona un aviso previo con 9 semanas de antelación.
*Estos productos no tienen estado normativo. El cliente es el único responsable de su validación. **Actualmente disponible en Estados Unidos. Si su laboratorio está fuera de EE. UU., consulte con su representante local de Beckman Coulter Life Sciences acerca de su interés para que este servicio esté disponible en su país.
**BPF según se define en ISO 13485

RESOURCE Contract Manufacturing Services (CMS) improves efficiency by reducing the number of manual pipetting steps and QC, minimizing reagent waste, and simplifying inventory management.
Why choose Beckman Coulter Life Sciences as a trusted RESOURCE for bulk antibody cocktails*?
Your cocktails will be manufactured in a cGMP** compliant facility.
Your order will include a complimentary pre-lot for evaluation and approval.
You can save time by simplifying inventory management and streamlining your workflows.
Use this calculator to quickly estimate approximately how much you might save.
Options include:
Antibodies from any source (ours, yours, or our competitors)
Dried or liquid formats
Exclusive DURA Innovations
Flexible delivery terms
Quality control (QC) testing on request (per your validation method and specified acceptance criteria)
Ordering process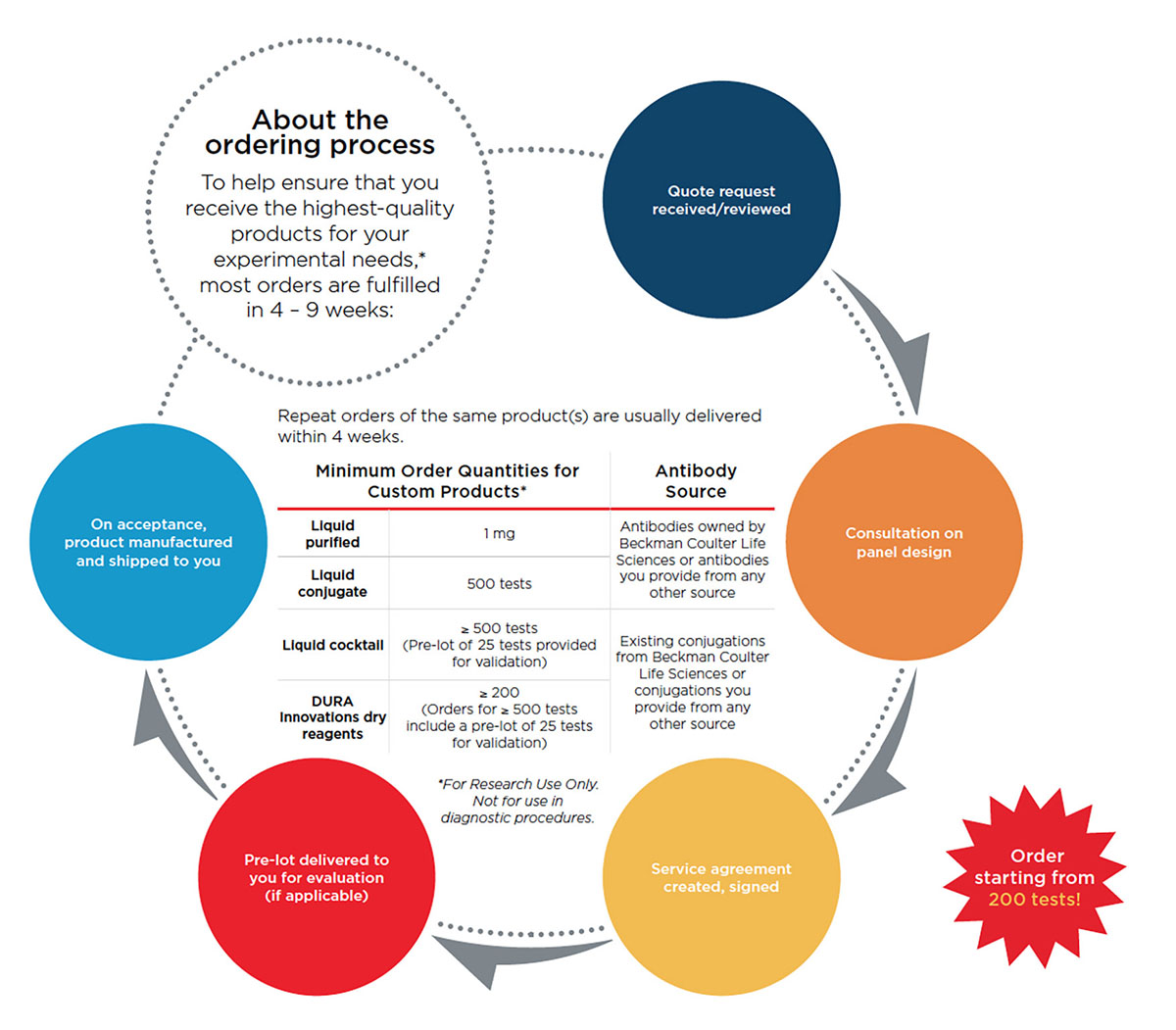 RESOURCE CMS also available in LIQUID FORMAT on our AQUIOS platform
AQUIOS CL flow cytometry users can now customize their own liquid panels through our RESOURCE Contract Manufacturing Services.
*These products have no regulatory status. Customer is solely responsible for validating them.
**GMP as defined in ISO 13485
Why waste precious internal resources when you have a reliable resource partner for bulk production of the antibody cocktails you need?
Discover how CMS Contract Manufacturing Services can help optimize your lab's productivity.